Welcome to Day 5 of the CTMH Idea Book reveal- today I have more in store for you than other days.
I have a winner to announce, a blog hop to share with you AND of course product to reveal with a project!!
First: THE WINNER of the Balloons stamp set featured yesterday is…
Then we have a project and a blog hop (all in one!)  The blog hop is one featuring NEW product reveals on my blog (which you know since you are here) and blogs of my team members.  To participate all you need to do is follow the link below to the next person on the hop and so on.  At the end you will be directed back to this page.
This card was one I made for my Dad's 56th birthday just a few weeks ago.  I love that it was simple yet turned out to be so cute!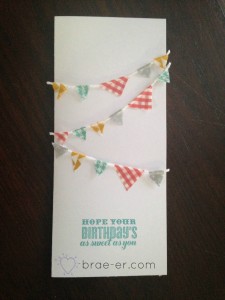 I used some of our natural baker's twine and overlapped pieces of our washi tape- the cut them to be in the shape of a pennant.  Since you can never have too much washi tape and it is so easy to use this was a great way to use some up!  I also stamped a simple sentiment on the bottom of the card in lagoon ink- the stamp is one of the exclusive stamp sets you receive in the Cricut Artiste collection.
Products featured:
Now HOP (this part actually does not start till 8pm MST so if you are early you might find some of the posts missing) on over to Lucy's blog to see what she has in store for you! Remember to come back tomorrow for another project and more new goodies – and if you haven't yet please be sure to subscribe to my blog so that you don't miss a minute of all the fun!
1. Brae Montgomery-  http://www.brae-er.com/2014/02/springsummer-ctmh-idea-book-reveal-day-5-blog-hop.html
2. Lucy Imrie – http://lucyscreativeexpressions.blogspot.com/2014/02/the-brae-ers-blog-hop-featuring-new.html
3. Tamara Lisowski ~  http://geermara.blogspot.com/2014/02/ctmh-february-2014-blog-hop-sotm.html
4. Alyson Mayo –      http://createwithalyson.blogspot.com/2014/02/unit-blog-hop-ivy-lane-easel-card.html
5. Sheri Ballantyne –    http://sherisays-justscrapit.blogspot.com/2014/02/the-brae-ers-blog-hop-new-stuff-from.html
6. Rosalynd Kelly –    http://inmyscrappinroom.blogspot.com/2014/02/february-team-braer-blog-hop.html
7. Heather Steeves –  http://paperplayroom.blogspot.com/2014/02/february-team-blog-hop.html
8. Arlene Bonsma – http://arlenescreativespace.blogspot.com/2014/02/the-brae-ers-february-blog-hop.html
9. Michelle Hughes –  http://therighthugh.blogspot.com/2014/02/ctmh-2014-springsummer-team-blog-hop.html
10. Cindy Kyle-http://cindykyle.blogspot.com/2014/02/february-blog-hop.html
Until we craft again, The Brae-er