Recently the lady I usually deal with at my local post office told me she was retiring- she was so very excited to be setting off from her career and taking time to live in their camper at their camp site.  She told me about the RV she had just purchased with her husband and their plans for the future.  I see this lady at least once a week and she is always friendly, happy and willing to share a laugh- I will miss her! Hearing her plans set some things in action for me…. I knew I had some creating to do and this is what the result was!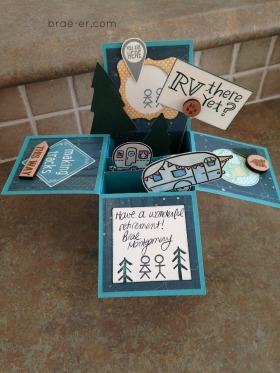 A card in a box (these are so fun! They are a card that folds flat and fits in a 6×6 envelope) featuring our Camper Crazy stamp set.  I used Timberline paper for by card and some of the stamps and accessories that come in the Timberline workshop on the go kit- in all honestly these pieces were leftovers from the kit that I had already put together (that is just how much you get!)
Here is a side view that should help you see how it is put together- to create one I just googled 'card in a box' and found a tutorial that walked me through it- they are very easy and super-fun!
Until we craft again, The Brae-er