The only thing better than crafting is learning new techniques while you do it! For this 'Technique Tuesday' I am going to share a trio of cards using a variety of techniques!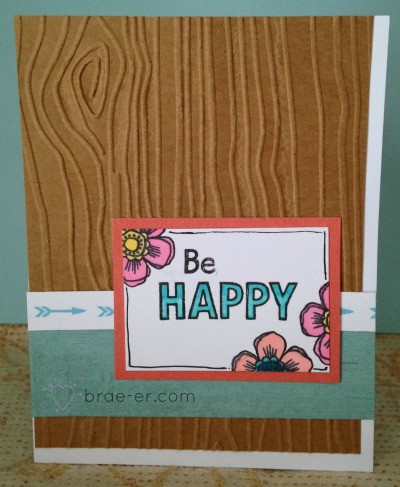 Card #1: Be Happy
This card using embossing as well as the use of alcohol markers. To emboss you will need an embossing machine (any of them that will take a 5×7 folder will do) and one of our amazing embossing folders! If you have not seen all our designs yet then check out this link!
You place your paper in the folder, put it through your embossing machine and voila! For the above card I used the woodgrain embossing folder.
The flowers are coloured in with our alcohol markers- I stamped the outline image in black ink and then coloured.  I love how our makers blend and look so bright and beautiful!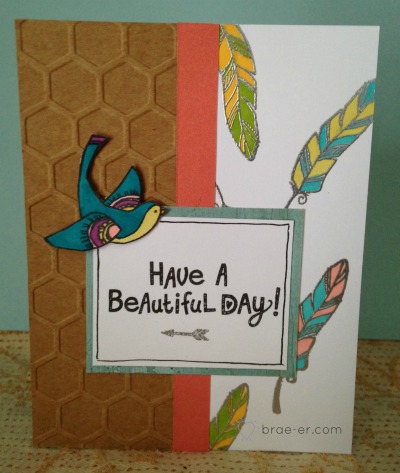 Card #2: Have a Beautiful Day
For this card I did a mix of dry embossing (with the embossing folder like card #1 but this time I used the honeycomb one) AND heat embossing. The feathers in the background and the arrow under the sentiment are both heat embossed.  For this technique I used Versamark ink to stamp my image and then sprinkled embossing powder over the image. (click on embossing powder to see the colours we offer).  I then heat set the powder and it becomes dry and glossy (and so pretty!).  After I just coloured in the areas of the feathers left exposed with alcohol markers.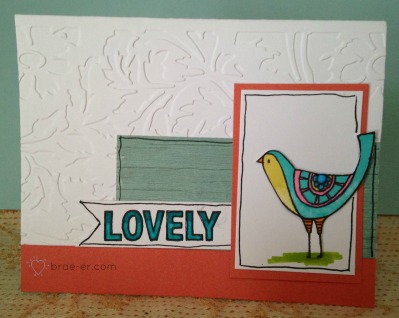 Card #3: Lovely
This card uses more dry embossing (this time the whole front of the card was embossed in the floral folder) and more marker work. If you look at the 'Lovely' sentiment you will see I blended my markers to create an ombre look.  You can achieve this by using a darker version of the colour on the top and slowly colouring to meet the lighter colour on bottom OR you can use any one marker and just add multiple layers of that colour where you want a darker shade. It will blend beautifully because you are using alcohol markers!
Here is a list of things used in the technique trio:
Embossing folders (woodgrain, honeycomb and floral)
Embossing powders (silver)
Heat gun
Versamark ink pad
Shin Han Touch Markers
Happy Birds stamp set
Seaside paper packet
Black journaling Pen (for the lines around the images)
and YES  all of these things are available on my SHOP!
Until we craft again, The Brae-er