Hello, hello, hello!! I am so excited for today's reveal- it is one of my favourite new products in our idea book!
Last fall we introduced a line of 'craft' jewellery called Base and Bling- this line was very popular as it allowed you to mix and match supplies and accessories you may have already had, with fabric, to make necklaces, cuffs, rings and hair accessories! I enjoyed them thoroughly! CTMH has extended this line and it is SO MUCH MORE FUN! I REALLY LOVE IT! Yep – that much!
Our new line of Base and Bling involves choosing your chain, your pendant and a matching glass cover, a charm (or two) and a fun picture for inside your pendant- either from our style sheets or from your own life! This is what a finished necklace looks like!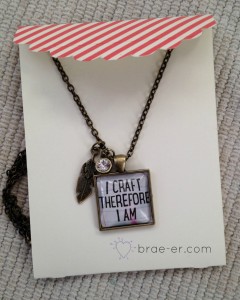 This one I added to a simple card cut out on the Artiste cartridge- for presentation.  The scalloped top to my card is covered with some of our new washi tape!  I love this necklace and it totally is me- from the phrase to the charms- best part… I can make more pendants and mix and match every day for a different look! This necklace shows the antiqued gold finish but we also offer a antiqued silver finish.  Isn't this awesome?!
Here are some pictures of the pieces I put together:
Products revealed:
Until we craft again, The Brae-er