Welcome to the Brae-er team blog hop featuring some of the fabulous new arrivals we have had this month! If you have not seen these yet then you are missing out – they are soooooo good!
August saw the early release of some fabulous new products from our upcoming Annual Inspirations Book (out September 1st). So, what did I make with our new arrivals: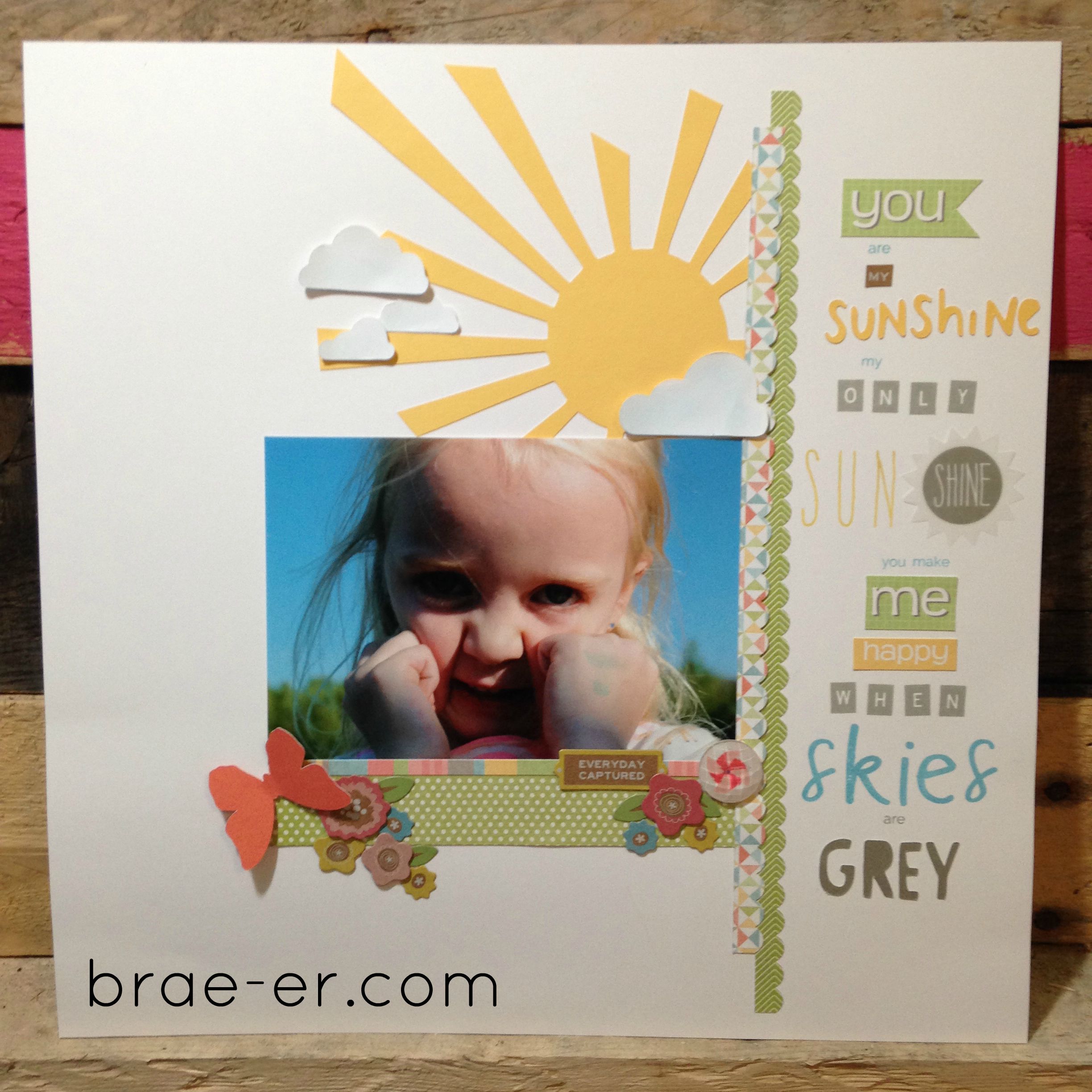 I made the most adorable layout featuring the most adorable little girl! In a few weeks this sweetheart turns 4 and the theme for this year's party is 'My little sunshine'- this layout was just the perfect piece to inspire more party decor! I used Zoe paper, accessories and complements as well as cuts from the CTMH Artistry and Artbooking cartridges with a mix of stamps to create my title!
What are the new arrivals you can purchase in my SHOP?
Cricut® Artistry Collection (Z3167)
My Reflections™ Zoe Paper Packet (X7197B)
Zoe Complements (X7197C)
Zoe Assortment (Z3082)
Coral Shimmer Trim (Z3088)
Enamel & Glitter Duos Green Triangles (Z3123)
Workshops on the Go® Zoe Scrapbooking Kit (G1096)
Framed – August Stamp of the Month (S1508)
Zoe Studio J® Kit
Zoe Studio J® Limited Edition Express Collection (Live until September 30, 2015)
Marker Roll-Up (Z3120) and Accessory Roll-Up (Z3121) as part of the August Get Organized Campaign
You will probably see a lot of these featured in our blog hop today! Now hop on over to Ashley's blog to see what she has to share with you about the new product!
And if you get lost, here is our complete list of hoppers!
1. Brae Montgomery-http://wp.me/p4htXJ-FF
2. Ashley Horton http://creatation.blogspot.ca/2015/08/august-ctmh-blog-hop.html
3. Chris Robertson- http://chriscreativelife.blogspot.com/2015/08/brae-er-team-august-blog-hop.html
4. Jessice Fenn http://createbythelake.blogspot.com/2015/08/august-team-braeer-blog-hop.html
5. Tamara Lisowski http://geermara.blogspot.com/2015/08/august-2015-ctmh-august-previews-blog.html
6. Darcel Kirvan http://singingbutterflyadornments.blogspot.com/2015/08/sneak-peak-of-annual-inspirations-2015.html
7. Heather Steeves – http://paperplayroom.blogspot.com/2015/08/august-team-brae-er-blog-hop-annual.html
8. Nicky Scott – http://wp.me/p51mrp-Qc
Until we craft again, The Brae-er