I am sure not all my readers have had a winter similar to mine but also know that many of you have- the cold was VERY cold and the snow just piled up and piled up and …. well, you get the idea! Now here I sit half way through March and spring should be in sight! I am hopeful that April will dawn with green grass and flowers pushing their way up through warm soil- ahhh!  For now seek some solitude in the 'Sunshine and Warm Breezes'  Team Blog Hop where members of my team (the Brae-er's) will each share  project on this theme that uses Close to my Heart products!
How does a hop work? Just read my blog, leave some love in the comments and click on the link at the bottom directing you to the next person in the hop!  Have fun!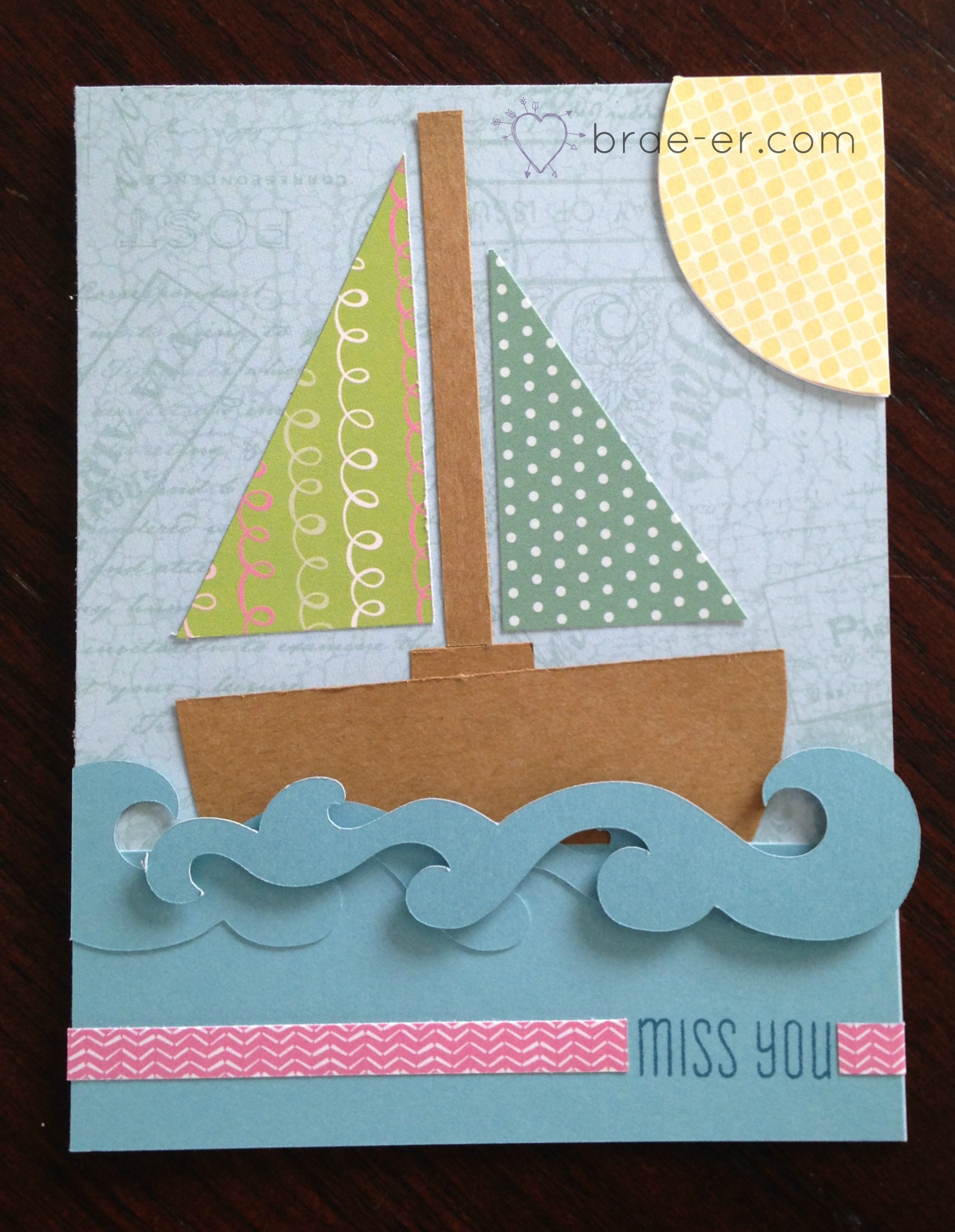 I love how this cute card turned out! I used a mix of papers from Lollydoodle and Balloon Ride- with some Kraft paper mixed in.  The card itself was very simple- I cut some triangles with my paper trimmer, the base of the boat is a circle cut in half and the waves are from the CTMH Cricut Artbooking cartridge.
Please subscribe to my blog while you are here ——> [widgets_on_ pagesid="Subscribe!"]
Now hop on over to Lucy's Blog to see what she has prepared (she has even been somewhere warm recently- how lucky is she!)
If you get lost the full list of hoppers is posted here:
1. Brae Montgomery- Here is my link: http://wp.me/p4htXJ-rP
3. Lucy Imrie- http://lucyscreativeexpressions.blogspot.ca/2014/03/sunshine-and-warm-breezes.html

4. Alyson Mayo – http://createwithalyson.blogspot.com/2014/03/unit-blog-hop-spring-card-box.html (permalink)
5. Michelle Stewart –http://mycreationswithmichelle.blogspot.com/2014/03/sunshine-and-warm-breezes-blog-hop.html
6. Arlene Bonsma – http://arlenescreativespace.blogspot.com/2014/03/sunshine-and-warm-breezes-march-blog-hop.html
7. Chris Robertson- http://chriscreativelife.blogspot.com/2014/03/sunshine-and-warm-breezes-march-blog-hop.html
8. Kimberly Clark – http://leokc34.blogspot.ca
9. Michelle Hughes – http://therighthugh.blogspot.com/2014/03/sunshine-blog-hop.html
10. Tamara Lisowski – http://geermara.blogspot.com/2014/03/ctmh-sunshine-and-warm-breezes-march.html
11.  Sheri Ballantyne — http://sherisays-justscrapit.blogspot.com/2014/03/the-brae-ers-sunshine-and-warm-breezes.html
12. Heather Steeves – http://paperplayroom.blogspot.ca/2014/03/sunshine-and-warm-breezes-march-team.html
Until we craft again, The Brae-er