Yes you may have guessed by now that my favourite paper pack is Skylark! I love to use it as it is so versatile and goes with EVERYTHING!   In this layout I use Skylark and the Cricut Artbooking cartridge (as well as a few other items) to share the amazement I feel as I watch my daughter grow and develop- the things she can do are simply amazing!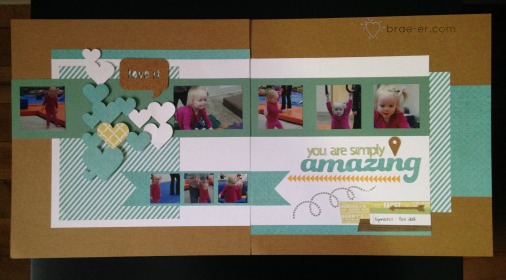 My layout it fairly simple- it is one of the patterns that is featured in our Make it From Your Heart-Volume 2 book (if you have not picked one of these up I highly recommend it!  It is full of layout patterns with cutting directions AND has card patterns as well!)
I added a few things to my layout – sparkle flourishes, Midtown Cork Shapes, One-Way Borders stamp set and pigment ink to stamp with (gives the colours a bit more 'pop').  I also used the Cricut Artbooking cartridge to create my title AND the heart cluster.  I have used this heart cluster a few times- it comes from a larger overlay cut on Artbooking- I cut it in different papers and then hand trim off clusters and lay the layers together. I really like the look!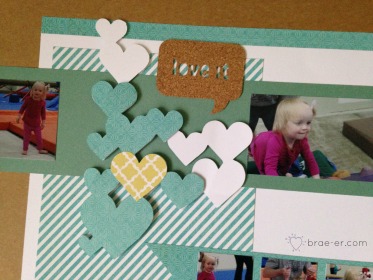 Products featured:
Until we craft again, The Brae-er