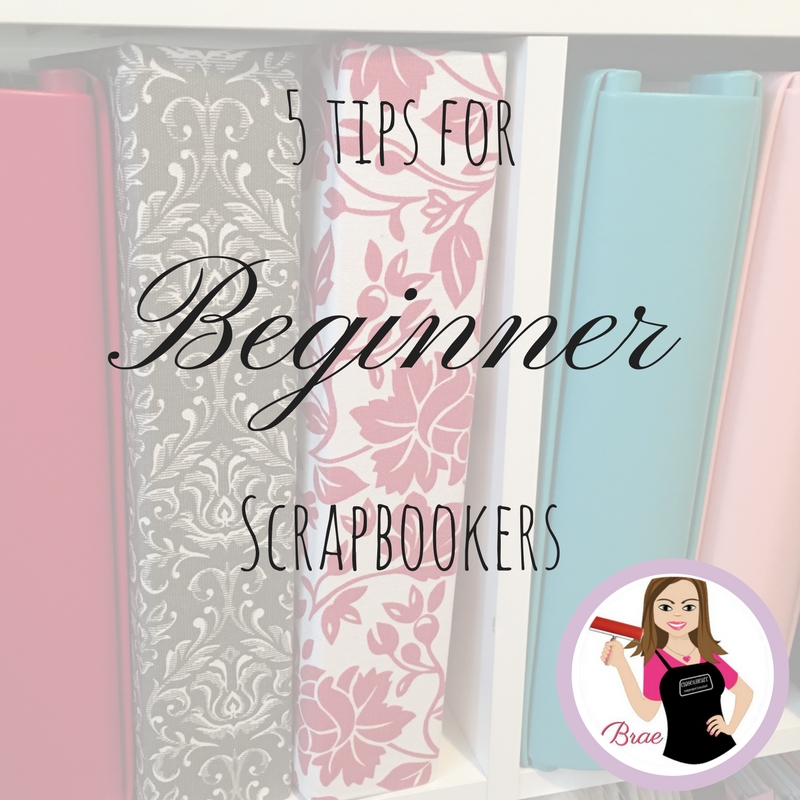 Scrapbooking can be a daunting task for a Beginner (especially if you have a friend who has been doing it for years and years, has shelves of albums and a whole craft room!). Seriously, where do you start? How does a beginner scrapbooker keep it enjoyable and not feel overwhelmed by years worth of memory keeping. Here are 5 tips designed for the Beginner Scrapbooker!
1. Start with what inspires and motivates you.
I have heard so much advice over the years (and all of it different). Honestly, there is no perfect way to scrapbook. You should do what works for you.
Start with last weekends day trip with your kids.
Start at the very beginning with your first born.
Start with your wedding.
Start with what feels right, makes you happy and keeps you excited for what you are creating!
2. Journaling is important, so DO it! 
Yes, just do it! You do not have to write a best selling novel. You do not have to write something that is super meaningful and will be sure to reduce your family to tears when they read it. Nope. I give you permission- you don't.
BUT- you do need to write something. The 5 W's are a great place to start (who, what, when, where and why/how). Don't get caught up in making it perfect- again this kind of thinking can be what makes people stress over something that should be enjoyable.
Also- do some in your own handwriting. Even if it is awful in your eyes- trust me YOUR handwriting will reduce a family member to tears in years to come. It will be that special!
3. Have fun with your pages.
Have fun- the whole process is supposed to be fun. Add fun stuff like cute stickers, bling and ribbon (or shimmer trim, LOVE me some shimmer trim!)  Lay it out and decide what looks good to you and then do it- if you want a simple design tip for your 'fun stuff' then follow the triangle rule. Place items in a visual triangle on your page or pages. This is what is pleasing to the human eye and it will add a sense of balance and movement to your page.
4. Seek inspiration for how to place your photos. 
Scrap-lifting is a word for a reason!
Use pinterest, blogs (like mine!), google or purchase a layout book (we have some pretty amazing layout books here ). Save what you like (on a pinterest board- cause we all have them so you might as create another one) and then use them for your inspiration with photo placement and design.
5. Invest in some GOOD basic tools.
There are some things that will make your life easier and those things are NOT to be taken for granted. They are also NOT to be bought at the dollar store- you will regret it.  What are these GOOD basic tools?
Paper trimmer– one with a firm bottom mat and a lifetime warranty. That is money well spent! The one linked is my personal favourite!
Scissors– the BEST thing you will ever purchase and a Close to my Heart exclusive. Titanium blades that will last you a lifetime- these lovely ladies can be sharpened too! (also check out the non-stick option- nice!)
Adhesive– now let my Mom be your cautionary tale. She wanted to save money and insisted that the dollar store adhesive would be just fine. Fast forward through three of them not even working and many pages falling apart a week later… I don't think they were actually worth it! Be sure to purchase something that is photo safe and that will hold. My personal go-to adhesives are the Bonding Memories glue and the Duck adhesive.
Albums– Again, this is not worth going to the dollar store to pick up. You need your album to last through the years, to last through children and family looking at them and to keep your memories safe. You also want to get more than 5 or 6 pages in your album- many inexpensive albums come preloaded with only a few plastic pages and you cannot add more. Choose wisely!
and remember- HAVE FUN!
Until we craft again, The Brae-er