Welcome to the Brae-er Team Blog Hop! My team is excited to show you the projects we have created using the Taste of Summer Paper that is exclusively available during the month of May (there is even an exclusive stamp set that you can also purchase to go with the paper!) All of this is to celebrate National Scrapbooking Month!
Here is the paper and the stamp set:
So much fun and so many bold colours! I will be sharing projects this month here and on my facebook page that use this paper.  Here is my FAV of the layouts I have created so far!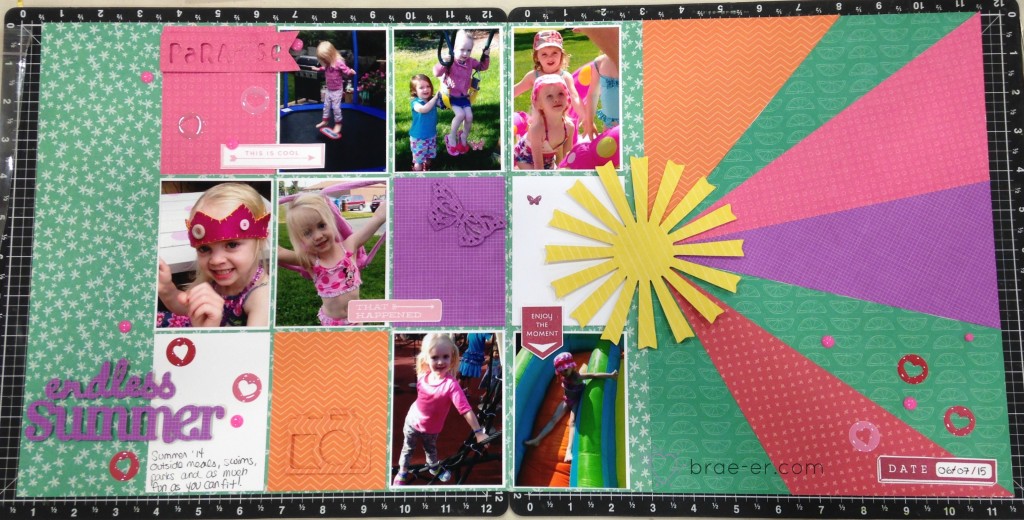 I was inspired by a layout I saw on pinterest that I knew would look amazing in the bright colours in the Taste of Summer paper. The back side of all the fruit paper has a print and they are so much fun to work with! I created the sun, camera, butterfly, title and title accents using the CTMH artbooking cartridge. All my photos document different fun things my daughter did over the last summer- this was a great way to use up photos that would not have been enough (or told enough of a story) to make a page on their own. I also added a few of our fun accessories- bubbly stickers, puffy glitter stickers and flamingo dots. I LOVE how it all came together!
What would you create with this paper?
Want to see more fun projects?
Hop on over to Chris's blog where I know she will have a project ready to WOW you!
If you get lost along the way just come back here and check the list below.  We hope you have fun and get inspired!
2. Chris Robertson- http://chriscreativelife.blogspot.com/2015/05/brae-er-team-blog-hop-taste-of-summer.html
3. Jessica Hill- http://createbythelake.blogspot.ca/2015/05/taste-of-summer.html
4. Michelle Stewart Ctmheart- http://mycreationswithmichelle.blogspot.ca/2015/05/brae-ers-team-blog-hop-taste-of-summer.html
5. Heather Steeves- http://paperplayroom.blogspot.com/2015/05/may-team-brae-er-blog-hop-taste-of.html
6. Sheri Ballantyne   http://sherisays-justscrapit.blogspot.com/2015/05/put-this-taste-of-summer-in-your-pocket.html
7. Darcel Kirvan – http://closetomyheartkw.blogspot.com/2015/05/taste-of-summer-team-brae-er-blog-hop.html
8. Lucy Imrie – http://lucyscreativeexpressions.blogspot.com/2015/05/the-brae-ers-blog-hop-taste-of-summer.html
9. Krista Ritskes –  http://wp.me/p5DG7p-G7
10. Arlene Bonsma – http://arlenescreativespace.blogspot.com/2015/05/taste-of-summer-team-braer-blog-hop.html
11. Nicky Scott – http://wp.me/p51mrp-GD
12. Carol Townsend –http://www.memorykeepsakesforyou.com/1/post/2015/05/taste-of-summer-blog-hop.html
Until we craft again, The Brae-er