Welcome to the Cross Canada Blog hop where we are sharing out love of Valentine's Day! If you have come from Nicky's blog then you are on the path across Canada to see all our artwork- have fun and don't forget to leave  a little LOVE on every blog by adding a comment!
This holiday is one of my favourite smaller holidays.  I love the colours, I love all the fun artwork I can create and I love that the holiday is about love!
Here is a banner I created for my mantel- I am really enjoying the mantel in the new house and decorating it for the different seasons and holidays. This banner was quickly made using the CTMH Art Philosophy Cricut cartridge and the Artiste cartridge. I used older papers as they had the colours I was seeking (a great way to use up your stash) and added some glitter paper for sparkle.

My next project was one inspired by something I saw on pinterest.  I used one of our decor frames and simply added hearts cut from all the CTMH cricut  cartridges.  I used a few different papers and sizes to add some variety.  Added some mini clothespins to attach the hearts and done!  A cut piece of art for the mantel that I can easily change out later!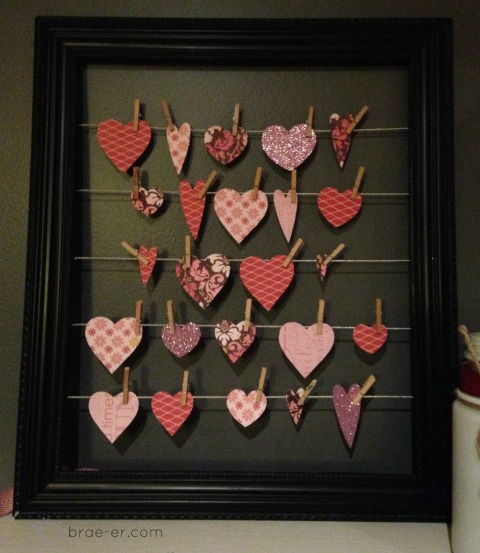 Now hop on over to Carol's blog to see what she has created!
and remember to leave some love!
Until we craft again, The Brae-er