Welcome to the October Blog Hop- this month we are featuring things that share why we are happy to be with CTMH!
Now if you have followed my blog for any amount of time then you already know MANY of the things that delight me about my choice to be a CTMH consultant!
My team is an amazing group of women! When a place a task before these ladies they go for it and give it everything they have! They inspire me and push me to new heights- I know without them I would be nothing!
Close to my Heart- the company, the corporate staff… they are family! and they treat ME like family! There is no better feeling in the world then that of being heard, having a voice and actually seeing your company make changes based on what consultants want- they really do have our best interest at heart!
The product- LOVE, LOVE, LOVE the product! It is what brought me to the company in the first place. My deep and profound desire to have it all! Of course that was 10 years ago and with new idea books all the time, I keep feeling like I need to have it all!  Since product was my first love with CTMH, I decided to focus on product for this hop.
This card if my FAVOURITE for the upcoming holiday season- I am not even sending this one out (I am going to keep it for myself because I find it so darling!).  A fairly simple card.  For the scooter I used paper piecing to get the variation in colours (just stamp your image a few different times with different colours of ink- cut out the pieces you want to use and glue them to your base image). My tree I cut and used 3D foam tape to add some dimension.  Stamp a simple sentiment and you are done!
What about CTMH makes YOU happy?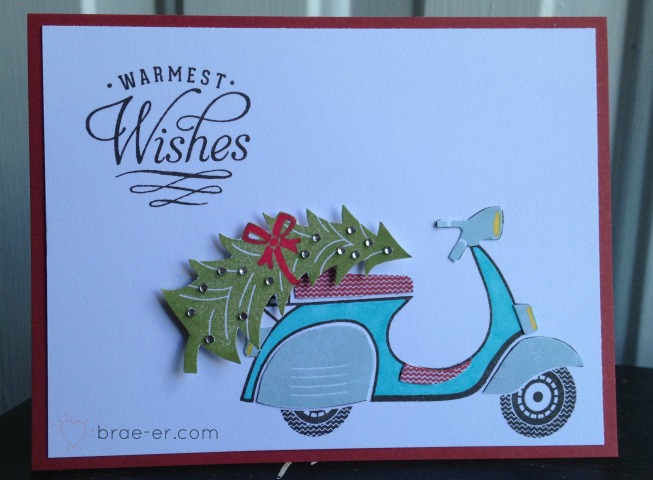 Now hop on over to Tamara's blog to see what makes her Happy!
If you get lost on the hop you can come back here to find your way!
Brae Montgomery- http://wp.me/p4htXJ-B8
 Tamara Lisowski http://geermara.blogspot.ca/2014/10/october-2014-so-happy-with-ctmh-blog-hop.html
Carol-Anne Grenier http://cagrenier.blogspot.ca/2014/10/braes-team-so-happy-with-ctmh-blog-hop.html
Julie Sinnotthttp://12x12travels.blogspot.com/2014/10/team-brae-er-october-blog-hop-so-happy.html
Rosalynd Kelly    http://inmyscrappinroom.blogspot.com/2014/10/the-brae-ers-team-blog-hop-so-happy.html
Darcel Kirvan  http://closetomyheartkw.blogspot.com/2014/10/so-happy-with-ctmh-brae-ers-october.html
Sheri Ballantyne  http://sherisays-justscrapit.blogspot.com/2014/10/hello-happy-hello-hawaii.html
Chris Robertson http://chriscreativelife.blogspot.com/2014/10/brae-er-team-blog-hop-so-happy-with.html
Nicky Scott http://www.timelesscottage.ca/team-brae-er-so-happy-with-ctmh/
Heather Steeves  http://paperplayroom.blogspot.com/2014/10/so-happy-with-ctmh.html
Until we craft again, The Brae-er