WELCOME to my team blog hop!  My fabulous ladies have been working hard to create some beautiful projects to share our new line of product with you.  As you read on you will want to click on the name I leave below to visit the next blog- keep doing that and at the end you should end up back here. If for any reason you get lost along the way, just come back to my post and you will find the FULL list of participants at the end of this post.
I am going to share with you a trio of fall cards I created.
Fall Card #1: I created this using Pathfinding paper, complements and assortment. I added some natural hemp (from my stash) and stamped the sentiment from Lovely Birthday stamp set.  I added some Kraft paper to the mix and finished the edges of my paper with our scallop border punch and chocolate ink.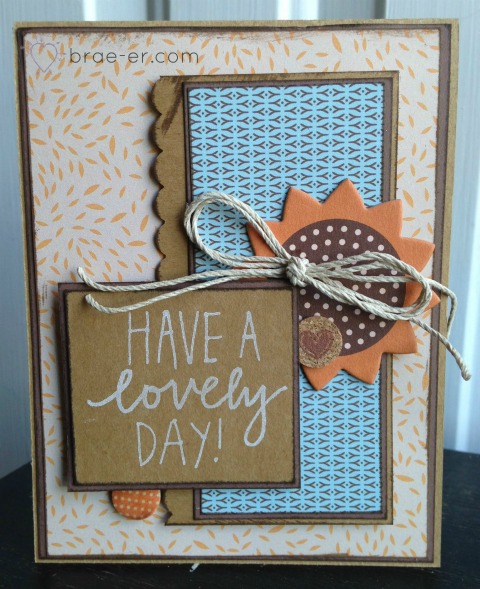 Fall Card #2: This card is made up of a lot of white daisy paper.  The back piece I stamped in flaxen ink with the Season of Thanks stamp set.  I also stamped my sentiment and single leaf with the Thankful Heart stamp set.  I coloured in my leaf with our ShinHan touch twin markers.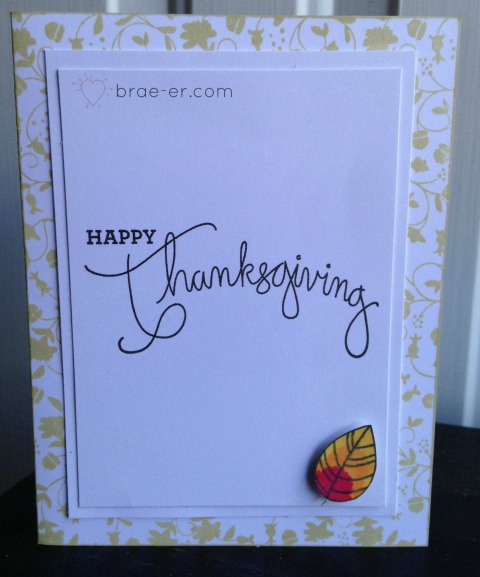 Fall Card #3: THIS is my favourite of the three and was the easiest! I used the fox that was part of the Pathfinding complements and stamps from the Lovely Birthday stamp set and the Hello Summer stamp set.
Now hop on over to Christine's blog to see what she has created!
Full list of Blog Hop Participants:
1. Brae Montgomery-http://wp.me/p4htXJ-yY
2. Chris Robertson- http://chriscreativelife.blogspot.com/2014/08/team-brae-er-august-blog-hop.html
3. Michelle Stewart –http://mycreationswithmichelle.blogspot.com/2014/08/brae-ers-team-blog-hop-featuring-new.html
4. Tamara Lisowski – http://geermara.blogspot.com/2014/08/ctmh-august-blog-hop-in-with-new.html
5. Nicky Scott – http://www.timelesscottage.ca/team-brae-er-new-product/
6 Carol-Anne Grenier-– http://cagrenier.blogspot.ca/2014/08/brae-er-team-blog-hop-new-product-blog.html
7.Carol Taggio- ( http://craftycarol55.blogspot.ca/2014/08/team-brae-new-product-blog-hop.html )
8. Krista Ritskes- http://simplycreatingtogether.blogspot.com/2014/08/brae-ers-blog-hop-some-of-my-favourite.html
9. Heather Dawson – http://pagesbyheatherd.blogspot.ca/2014/08/new-idea-book-new-products-new-blog-hop.html
10. Jessica Hill –http://createbythelake.blogspot.com/2014/08/august-team-brae-ers-blog-hop.html
11. Michelle Hughes – http://therighthugh.blogspot.com/2014/08/team-new-product-blog-hop.html
12. Julie Sinnott – http://12x12travels.blogspot.com/2014/08/team-brae-er-august-blog-hop-new.html
13. Jan Moxey – http://scrapandstamp4ever.blogspot.ca/2014/08/new-product-blog-hop-featuring-some-of.html
14. Heather Steeves – http://paperplayroom.blogspot.com/2014/08/new-product-august-team-blog-hop.html
15. Alyson Mayo – http://createwithalyson.blogspot.com/2014/08/braeers-team-blog-hop-new-product-focus.html
Until we craft again, The Brae-er