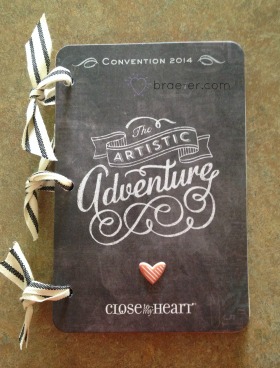 Convention is always a magical time of year- for CTMH consultants I think it is MORE exciting than Christmas! The fun of new product reveals (and how they reveal them is always a true show) and getting time to play with all the new stuff… sigh… it is heaven on earth!
Now today I am still at Disneyland… riding rides and having some girl time with my BFF Sarah BUT before I left I wanted to make sure I had some fun stuff set up for you! I hope you like it- we created this on Thursday at convention and all I will need to add when I get home are my photos!
This mini album is created with the following new products: Chalk it up Picture my Life, Striped Twill Ribbon, and and the Chalk it Up Assortment.  I also used a few of our new stamps… but those you will have to wait to see… (insert slightly evil laugh here).
Want to make an album like this for a special trip you have been on? or to document a special moment? comment below and I will consider this as a kit for the upcoming fall/winter kits!
Until we craft again, The Brae-er