I think we are all familiar with the song from Toy Story that you are probably singing in your head right now…. and if you weren't I likely just changed that- you are welcome!  I also welcome you to our May blog hop which will feature our stamp set of the same name and LOTS of ideas for how you can use it!   If you have come from Melinda's Blog then you are on the right path and all you need to do is read on and click the link at the bottom of my page.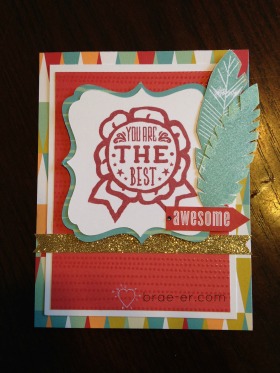 For my card I used the National Scrapbooking month paper 'Free to be Me'.  I added some gold shimmer trim (left over from a past project) and a green sparkle for accessories.  My centre shape was cut using the Cricut Art Philosophy.  The feathers added are from the 'Feathers' stamp set.
Here is a similar card but more simplified- it is what my party guests will be making this month.  The biggest difference with this one is the use of the gold polka dot washi tape to adorn the card.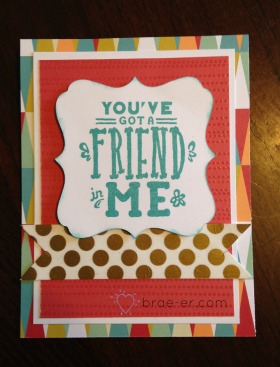 Now hop on over to Jen's blog to see what she has in store for you!
Until we craft again, The Brae-er