I love holidays- especially the ones that really allow me to be creative and have fun with my family! Valentine's Day is 100% one of those holidays!
I have created lots of fun stuff in preparation for the big day (and have a bag of hidden 'goods' to surprise my loved ones with that morning).
Here are just a few of the things I have created that I hope will inspire you!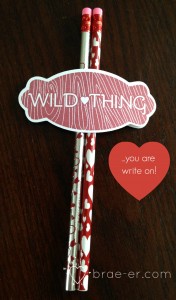 This is the Valentine 'treat' for my kids to take to their class (at school for one and daycare for the other).  I used the February Stamp of the Month to create the 'Wild Thing' image and on the back used a nice black pen and a stamp image to add the phrase "… you are WRITE on"- cute, right?!
Sorry photo removed for publication!     
This in the card I intend to give to my sweet hubby! He tends to (really) dislike holidays and usually does not do a whole lot but I LOVE them (and if reads this then I suggest you do a little something for all of us that day… I know you can do it!).  This card looks simple (and truly it was) but it took a while. I used our new flamingo dots (you are getting some serious sneak peeks here!)  and a heart I cut out on the cricut.  The heart was cut out on Kraft paper so that it would blend in and not look like I had a base at all.  I then added my flamingo dots one by one.  To make sure they stay put I coated the whole heart with a layout of liquid glass- voila!
And last- my 'I Love You' decor frame.  At Christmas I had my advent calendar set up on this- now I am switching it to Valentines and I plan to list all the reasons I love my family and all the things they do to keep the love going! They can add to this as well.  I have a video showing the frame in detail below- enjoy!!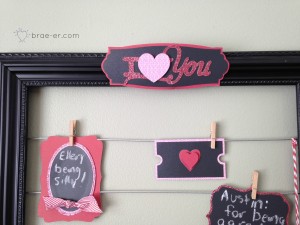 Until we craft again, The Brae-er