Every so often I like to really try to challenge myself. Often this fails…miserably! But I am glad to share that this time was not one of them!
I am, in fact, in LOVE with what I created the other day. I will admit that this page was inspired by something I saw on Pinterest- but that is where it ends, just inspiration.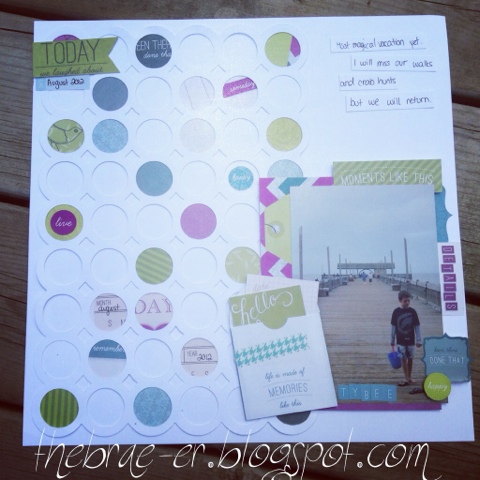 To create this fun page I used one of our Cricut Artbooking overlays that was intended for a 8 inch mini book page. I used the 'Fit to Page' feature on the cricut to make it as BIG as possible. My overlay is white daisy as is my base page.
Now, this is where I was thinking out of the box- instead of just backing some of the holes with paper (which yes I have lots of) I decided to use only a package of our Crush Assortments- they are 4.95 and beyond the Washi tape are the ONLY other thing used to dress up this page! I used pieces placed together to make my photo mat, used more pieces for journaling and one of the cute little envelopes to hold it. I used one of my hole punches and punched holes in a lot of the other bits that come in this assortment. I even thought about what I was punching out so that I could use features if possible- one example is my month and dateto the left of my photo. I mixed it up and had fun with the bright colours!
LOVEd the process of creating it
Until we craft again, The Brae-er