Looking for something different to do this month?? Want to make something that you will leave out all year, looks great and will help organize you! Then this is it!!!
Come to my Event Calendar Workshop on January 31 from 1-4 at my home! You can create a beautiful event calendar to track all of those special dates throughout the year- OR – make a first year milestone calendar for that special person who is welcoming a baby this year!!
The cost of the workshop is only $20.00 and this includes everything you need for one event calendar- and you can also order multiples if you would like one for yourself and one as a gift! Please RSVP by January 15th if you would like to attend!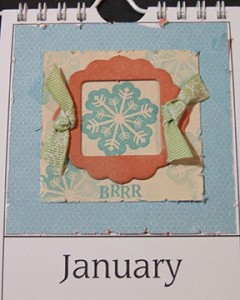 Until we craft again, The Brae-er