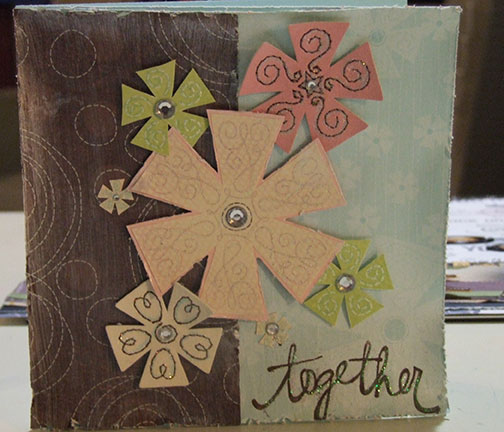 Lately I have just not been on my blog- so I apologize!! I have a very good reason and one that I will only begin to share with you today. Close to my Heart has recently put some challenges out to their consultants- and I am hoping to win!! Both of them are a lot of work though so please bear with me as I finish up two video segments and five pieces of exceptional artwork (well, I hope they are exceptional)!!
I thought I would share with you one of the projects that did not make my pile of 'exceptional' pieces. I like it- but it is just not as good as the other stuff I have created! For this project I used Topstich paper, Soft Suede pinwheels and stamped some pinwheels (I also cut a pinwheet out of the Topstich paper!). I have added some prisma glitter and embossing powder to add some glam! To glam up my background I used create-a-shade pearl paint.
Make sure you visit again soon as I will be uploading a video tour of my scrapbook room (AKA the basement rec room)- thanks to Treasa Black and another consultant (and I cannot remember who) for the inspiration for this video!
Until we craft again, The Brae-er