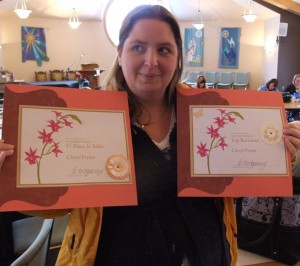 Yesterday was my team stamp camp- every catalogue release we get together to play with new product, share some business tips and show off some of the new product. At the January event we also give out the awards for the year before!! Although pulling this off is a lot of work I am always really excited- the night before I could barely sleep with the anticipation! We work in an Operation Smile fundraiser and the whole day is just great.
Yesterday we raised $520 dollars for Operation Smile!!!!
We also awarded some of our hard working girls like Cheryl who is pictured above – she won first in sales and top recruiter for my unit!! Way to go girl!
As part of the prep myself, my fab friend Sarah and a score of other people create some wonderful artwork- I was in charge of the January Stamp of the Month board so here is one of the pieces off that- it is a 6×6 card out of Wishes. I used the Veranda paper, Spring Blossom flowers, filigree charms and one of the stamps from the Veranda workshop on the go stamp set! Hope you enjoy!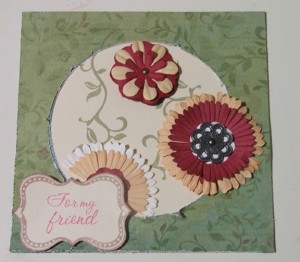 Until we craft again, The Brae-er