Welcome to our Close to my Heart New Product Blog Hop!
17 Fabulous Close to my Heart Consultants are celebrating the recent release of the Spring 2010 Idea Book by showing you some of our creations with the wonderful new products from Close to my Heart!

This is simple do to- just click on the link at the end of the post on each blog to move to the next one! Here we go!

This cute card was made using our new Caboodle paper and my favourite stamp set- Love you Forever!! I used the Wishes pattern Collage and added some sparkes and embroidery floss to finish it off.
As soon as I saw this stamp set in the spring catalogue I knew I had to have it! I have read that book to my son many times and I had just quoted the phrase from the book to him the day before! It is our special thing! I was so excited to get it and see what great stuff I could create! Hope you enjoy!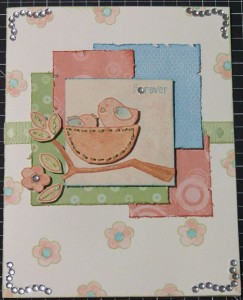 The background of the card was created by cutting apart one of the stamp images- I just wanted the flower off the tree image so I CAREFULLY cut it apart. I then stamped it in one colour and used my blending pen to add colour in the flowers. I did that same technique when colouring in my bird family and tree stem. Below is a close up of the center image.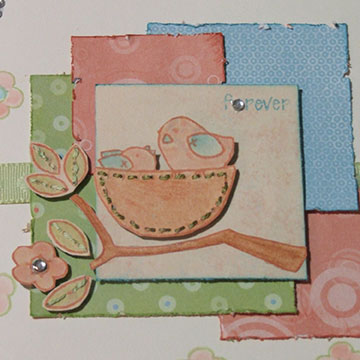 Now "Hop" on over to Carla's Blog to see her work!
Be sure to visit all the Consultants at their Blogs to get some great crafting ideas and see the great new Paper Packs, My Acrylix Stamp Sets, and amazing new embellishments!
You can purchase any of these items by contacting me directly, or from my CTMH website .
**Link not working? Missed a Blog? Here is a list of all the participants in the New Product Blog Hop!
Erin Herring www.tazzygirl2000.blogsot.com

Lisa Stenz http://www.lisascreativecorner.blogspot.com

Brae Montogmery http://www.brae-er.com

Carla Ironside http://carlacreates.blogspot.com

Helen Onulak www.hookedonstamping.com

Adeline Brill http://adeline-brill.blogspot.com

Jody Gustafson www.cre8nmemories.blogspot.com

Haley Dyer www.inkyscrapper.blogspot.com

Antoinette Herrin www.godblessyourART.blogspot.com

Sherrie Thornton http://impressionableart.blogspot.com

Jessica Moore http://jessicaspaperpetals.blogspot.com

Wendy Kessler www.myscrapbookingblog.com

Dawn Ross http://iamahappystamper.blogspot.com

Dawn Heuft www.stamptildawn.blogspot.com

Kimberly Smith http://verykimberry.blogspot.com

Amy Edwards www.paisleysplayhouse.blogspot.com

Amy Schultz http://amylizschultz.com
Until we craft again, The Brae-er