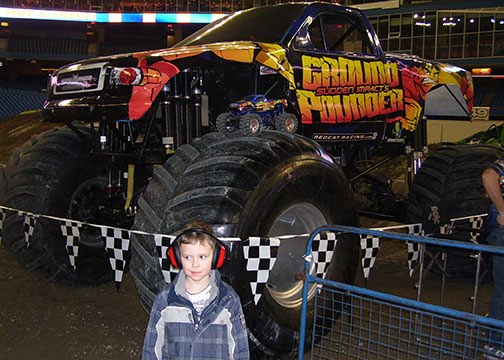 This morning you would have thought that Christmas had come again to my house. Austin was up at 8 to get ready for his big day- first he had his usual breakfast date with Grandma at McDonald's. This is a tradition started a few months ago that Austin just loves- Grandma is busy usually so they try to get together once a week for their 'date'. Then Austin came home only to be whisked away for part of his birthday present- two tickets to Monster Jam!!
He had all his toy Monster Jam trucks ready to go with him to Toronto and he was really hoping to see his favourites- Gravedigger and El Toro Loco. Well, he was not disappointed. According to Daddy he had a great time and even came home with a new Monster Truck- Jurassic Attack!
Sadly, now he is watching his Monster Jam movie- I am sure we will see that over and over again for the next few days!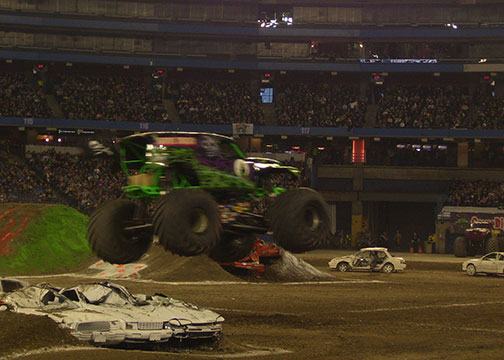 While Daddy and Austin were away, Mommy got to do some stuff of her own. After cleaning up the house and getting ready for my Kid's Scrapbook Club, I had a chance to make the 50 Thank You cards for Austin's school- French school= French 'Merci's. They took some time but I kept the pattern simple so that it could be done fairly easily. Supplies used were Boom-di-ada Creative Basics and Free Spirit Creative Basics. I especially love the Free Spirit as it works in the French Fleur-di-lis. Now I just need to drop them off to another parent who will be adding the inside notes before giving them to the community members who helped in our recent silent auction. Through the parent council efforts this year we have been able to raise enough money for TWO interactive Smart Boards for the school!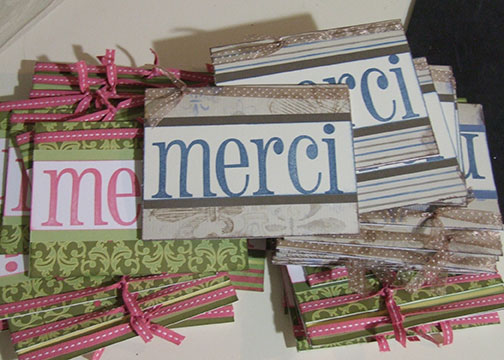 Until we craft again, The Brae-er