Welcome to the December Stamp of the Month Blog Hop!!
This month we are featuring the stamp set Notice the Details which is a set of 41 stamps!!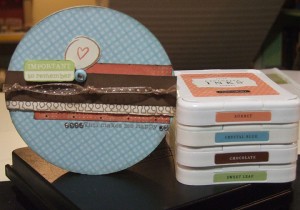 For my card projects I used one of the patters from Wishes for a circle card- Simply Secure- and I used some of our twitterpatted paper. I wanted to show that our stamps and papers are versatile enough to create masculine and feminine cards from the same paper!! both of the cards featured here use the same base B and T paper (the brown plaid), the above image just used the back side of it which features the same print in a tonal blue. I also used different accent papers for the cards but both are from the twitterpatted paper pack (pink dot paper above and sweet leaf cardstock below).
To really make these cards stand out I made sure that the accessories I used and stamps really spoke to the message I wanted to get across. The above feminine card features a brad with a sparkle on top, a strip of sparkes and some light feminine ribbon- as well I used stamp images that reflected this- like the heart and the colours of ink! The below masculine card features buttons and waxy flax and a heavier ribbon (on which I stamped on of the stamp images). The stamp images are a little different and although I still used the heart I stamped it in the crystal blue ink.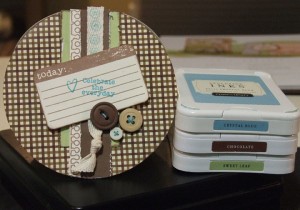 I hope you enjoyed this take on cards and your preview of the December stamp of the month- if you would like to purchase this stamp set then please click
here
AND if you would like to
continue on in the blog hop then click here to go to Adeline's blog!
Until we craft again, The Brae-er